Image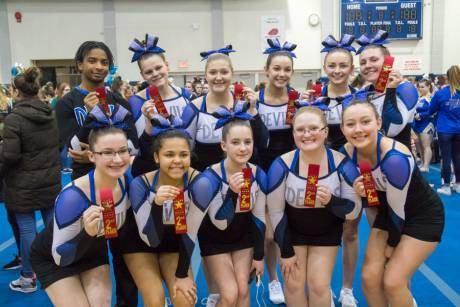 Eastridge High School held its annual "Battle on the Ridge" cheer competition this past Saturday in Rochester. The Batavia Varsity squad finished second place in its division. 
Judges score on difficulty and execution in the following catagories: Jumps, pyramid, stunts, tumbling and cheer.
This Saturday Rochester Institute of Technology hosts the Section V competition. 
For more photos to view or purchase click here.
Image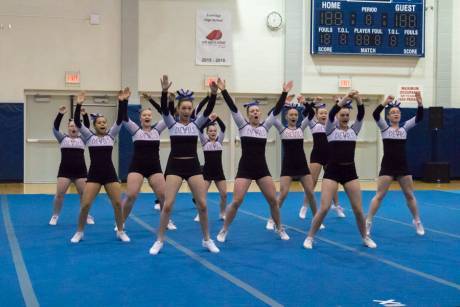 Image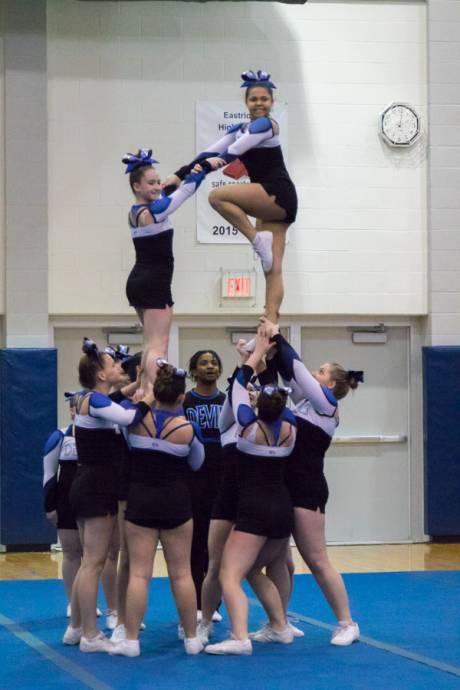 Image
---
---
Oakfield-Alabama Lions Club
3vs3 Youth Basketball Tournament
Sunday, March 22, 2015
Registration begins at 11 AM for Grades 4 and under at Oakfield-Alabama Elementary School and Grades 7 & 8 at the O-A High School.  Start times are 11:30 AM.
Registration for Grades 5 & 6 at Elementary School and Grades 9 & 10 (Combined) and Grades 11 & 12 (Combined) at the High School will be at 1:15 PM.  Start times depend on finish of prior age groups.
Last Saturday May 31st YMCA Camp Hough, located at Silver Lake, had its annual open house. There was a great turnout of parents and their kids at the event making it a great success. At the open house team members of the YMCA showed parents around the camp facilities and spoke about events were held each week. Parents and children were even able to participate in rock climbing, archery, a camp craft, and roasting s'mores while touring the facility. Families were pleased with what they saw and registered their children while there. On Monday June 2nd the GLOW YMCA held its annual golf tournament at the Silver Lake Country Club. This event also had a great turnout and had a beautiful day to play 18 holes. People had a great time reminiscing with each other and even meeting new people. The golf tournament is held every year to help fundraise money for camper scholarships and to buy new equipment. YMCA Camp Hough starts June 29th and runs through the middle of August having a total of 7 weeks during the summer. For more information go to www.camphough.org or call 585.237.5160
React, The Salvation Army and local businesses are teaming up to give more to Batavia youth. "We are planning more teen and youth nights," says Major Patty (The Salvation Army). Game Players Unlimited has teamed up to sponsor a video game tournament for middle and high school students. This will take place on Thursday December 29th at 4PM at 529 E. Main St (The Salvation Army).
A few teachers from Attica middle school are volunteerting to help at our Youth Fun Night on December 27th at 6pm at 529 E, Main St (The Salvation Army). Jeff Morrow dresses up as a clown and does magic tricks along with animal balloons. Tressa Wilber-Smith will do face painting. Wittnes Smith says, "This is just a start of many to come, we're looking to do more fun events throughout the year for our youth."
REACT creates programs directed towards young people in middle and high school.The programs are geared to help them learn how to create and respond to positive change and being that positive change in their home, school and community. Young people are encouraged to find ways to counteract negative problems with creative, positive solutions.
Leadership Genesee's 7th Annual Golf & Bocce Ball Tournament is at 11:30 a.m., Monday, June 14 at Terry Hills Golf Course. Gold Sponsor of the tournament is Clark Patterson Lee.
Now until June 1, teams may sign up for the four-person scramble that includes lunch, green fee, cart and buffet dinner for $100 per person. But after June 1, the price is $115. Registration for Bocce Ball is $50 per person and it includes lunch and dinner. Dinner only is $30 per person.
2010 Michael Napoleone Memorial Baseball Tournament Friday, May 28th - Sunday, May 30th Played at the Little League fields in Batavia. Two age groups will compete: Ten teams age 12 and under AND Ten teams age 10 and under. Team entry fee: $200.00 T-ball tournament for ages 8 and under (registration necessary-no fee). Contact Dave at (585) 797-7836 or Paul at (585) 781-8138 for details, or visit www. michaelshope.org The weekend will include fun events for everyone in the family! Proceeds benefit the Michael Napoleone Memorial Foundation Inc.