Image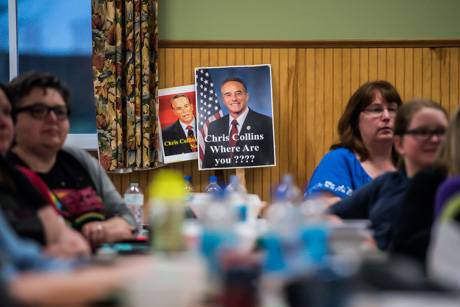 The event last night was billed as a "town hall," a chance for all constituents in New York's 27th Congressional District to come to the Alexander Fire Hall and voice their issues, raise their concerns and ask questions of Rep. Chris Collins.
If Collins bothered to show up.
Of course, he didn't.
In his place on the dais was an empty chair.
If he had filled that chair, he would have found himself on a panel of people billed as experts in various topic areas who, rather than represent the range of political ideology in the 27th District, seemed to largely hold liberal and progressive viewpoints.
The more than 400 people who attended were all given 8 1/2 x 11 colored pieces of paper -- raise green when you agreed with a speaker's point and red when you disagreed. Rather than showcase a diversity of opinions, green cards tended to go up in unison for points favored by the audience and red cards raised altogether when audience members wished to jeer a negative point made about Collins or the current presidential administration.
This, though Michelle Schoeneman in her opening remarks, suggested the audience might represent a range of political views and party affiliations.
"Whether you are a Democrat or a Republican, whether you are conservative or liberal, whether you voted for Collins or not, you are all here because you care enough about democracy to take time out of your busy lives to make your voices heard," Schoeneman said.
The town hall took on the feel of a partisan political rally when Schoeneman concluded her remarks and said Collins might have a rough go of it in the next election.
"Mr. Collins, if you're watching this right now, I'm here to tell you that this is your last term," Schoeneman said. "Come 2018, we will have a new representative. It may be a Republican. It may be a Democrat, but it will not be you. We will vote into office a person who does not consider it unreasonable to want to talk with you. We will listen and weigh every decision that is made."
That was the loudest applause line of her opening remarks and the room was filled with green cards held high.
The expert panel included a 22-year-old organic farmer from East Aurora who runs a 24-member CSA (Community Supported Agriculture group) and an educator who runs I Am Syria and is the founder of the Summer Institute for Human Rights and Genocide, even though a couple of the nation's top experts on agriculture and immigration live right in Genesee County.
Dean Norton, former president of the New York Farm Bureau who helped draft comprehensive immigration reform in 2013 (it didn't pass, though Collins supported the bill), said he got an invitation through Instant Messanger that he didn't see until after the event was over, though he didn't specify if the invite was to speak or just attend.
Maureen Torrey, who runs with her family one of the largest produce farms in the region, and has been to Washington, D.C., and traveled the nation in support of immigration reform, said she was invited to attend but was not invited to be on the panel.
Even though economics and trade, as well as foreign policy and criminal justice, were all big topics in the recent presidential campaign, there were no experts on the panel in those subject areas, even though in the county and in the region there are available experts.
Comprising the expert panel were:
Healthcare: Gary A. Giovino, professor, and chair, Department of Community Health and Health Behavior at UB;
Great Lakes and Rivers: Barry Boyer, who taught environmental law and administrative law at UB;
Small business: Ginine Capozzi, owner of KnowledgeForce Consulting LLC in East Amherst;
Local environment, fish, and wildlife: Dick Thomas, retired from a 33-year career with NY Department of Environmental Conservation;
Education: Chris Cerrone, cofounder of WNY for Public Education;
Diversity and social justice: Jeremy Besch, head of Upper School at the Park School in Buffalo;
Immigration: Andrew Beiter, director of I Am Syria and is founder of the Summer Institute for Human Rights and Genocide;
Climate change: Sandra Chelnov, who is "deeply concerned" about climate change and has attended several conferences;
Laura Colligan, owner of Dirt Rich Farm in East Aurora.
The town hall was sponsored by several progressive organizations: GLOW Progressives, WNY Peace Center, Buffalo Resists, Sister District of WNY, Invisible NY 27th, Turning Emotion into Action, ACTion Buffalo, and Citizens Against Collins.
As part of each expert's introduction, the speakers were invited to say a word about why they were there. Some speakers gave just a brief introduction, others used the time to share stronger opinions.
Giovino said the current healthcare system is not designed to help you get well, rather it's designed to ensure you keep coming back.
"My concern about healthcare is that it's for profit," Giovino said. "In every other country, every other rich country, it's not for profit. I think capitalism is a great thing, but when it comes to health, we need a catalytic converter on that engine."
Thomas said the environment is his passion.
"I think it's everybody's passion whether we know it or not," Thomas said. "Elections are guided by politics and not so much guided by science. Environmental protection suffers from the ebb and flow of global leadership changes and at the same time, that environment is generally not working in many cases. Under our current federal government leadership, the divide between economic interests and the environment is wider than it ever has been."
Besch got a laugh with his introduction.
"I'm a white guy who does diversity work," Besch said.
He added later, "For a long time this country has had a political environment that has sort of secretly and quietly marginalized already-marginalized groups to drive a culture of fear to push its agenda. What I've seen in recent years is that action is no longer quiet and secret. Preservation of wealth and privilege is coming at the expense of those who don't have either of them.
"If we don't find ways stand up and stop that then a situation that is already pretty precarious and getting worse is going to get a heck of a lot worse and a heck of a lot more quickly than I think any of us care for."
Capozzi said she's tried to talk with Collins many times about a range of issues that affect small business owners, from healthcare to immigration to tax policy to education to workforce readiness and manufacturing.
"There isn't a part of our communities that is not impacted by the small business community and he doesn't have anything to say," Capozzi said. "Literally, nothing to say, since May of 2014. I'm really concerned about our opportunities, or lack thereof, to talk to the congressman across all spectrums and all areas of business and all the impacts that affect us."
Cerrone slammed support for school choice.
"Chris Collins supports the Trump-Betsy DeVos privatization schemes that will devastate our local, public schools," Cerrone said. "If this raised achievement, I would be all behind it, but studies show that school choice sounds good, but choice does not work. It does not raise achievement, which is our number one concern, but also it's a boon to those who want to privatize and profit off our tax dollars with no accountability." (Fact Check: the studies are not as one-sided as Cerrone states, but decidedly more mixed.)
Beiter said he came to the event to talk about the refugee ban and the "war on immigrants." He was critical of the Trump Administration's position on immigration.
"His policies are wrong and xenophobic," Beiter said. "They also hurt the economy, our agricultural development and who we are as a people."
Walter Eckert, of Mendon, asked the first question and it was on immigration, so it went to Beiter.
"It's the businesses that employ illegal immigrants who are breaking the law," Eckert said. "Why do we not charge the employers of illegal immigrants?"
Beiter said that was a good question and he blamed greed.
He said agriculture in New York is a $3.5 billion industry and farmers fear with a clamp down in illegal immigration they will not be able to fill vital positions. He said in Niagara County, there are 1,200 migrant workers between May and November. He said these workers are exploited by farm owners.
"On one level this is a human tragedy," Beiter said. "It's slave labor that lowers the prices of our groceries, so the answer to this is comprehensive immigration reform. I think what you're going to see as to why these businesses and corporations are not prosecuted is because they're profiting from it." (Fact Check: The average migrant farm worker makes $12 an hour in the United States, with some earning as much as $15 an hour, and migrants are also provided housing at no cost on many New York farms.)
He said during the George W. Bush administration and the first part of Barack Obama's two terms, there were attempts at immigration reform, but that greed prevented these reforms.
"These issues tried to get on the table, but they were put down because corporate America makes too much money from our brown-skinned brothers and sisters who are here in our communities," he said.
Actually, there was comprehensive immigration reform bill considered in 2013. Dean Norton helped draft it and Collins supported it. It didn't pass.
Collins has said many times that never in his political career does he participate in town hall meetings because he doesn't find them productive. He would rather meet with small groups of people around specific topics. He has said he will talk with any constituents who ask for a meeting.
Maureen Torrey, for example, has said she and other farmers have had a productive relationship with Collins. 
"Since the election, Congressman Collins and his staff have been working with the agriculture community in his district with all the family farms and agribusinesses in his district weekly," Torrey said. "He has held bipartisan meetings on trade, immigration, and the economy of agriculture. He has been working hard to arrange meetings and educate people on what our needs are.
"He knows our issues and hasn't been afraid to speak them. He talked about our needs on national TV. He has opened doors for us. For the first time in many years, I feel we are making progress on issues."
There were also people at the event who let reporters know that they've requested meetings with Collins, but they haven't gotten a response.
The Batavian has been trying to arrange an in-person, hour-long, multi-topic interview with the congressman since late January. We've made at least a dozen requests and despite assurances that such an interview will take place -- and statements by Collins himself that he will sit down for an interview and that he enjoys being interviewed by The Batavian and would be happy to talk -- we have yet been able to secure a date for such an interview.
UPDATE/CLARIFICATION & DISCLOSURE: One of the organizers, Jane Cameron, has said I was invited to be a speaker at the town hall. I honestly didn't remember the invitation. I found the email from March 30 where she said she wanted to talk with me about "your possible participation in a Town Hall ..." I wasn't sure what she meant by this, but I said I would cover the event but that I don't participate in partisan politics. She also said there were two conservatives on the panel without specifying who those individuals are.
Image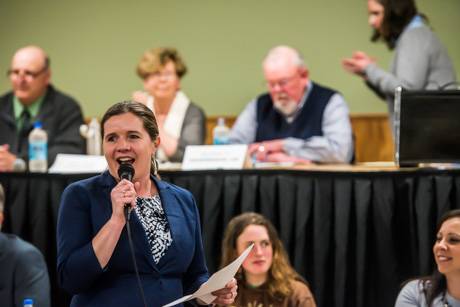 Michelle Schoeneman
Image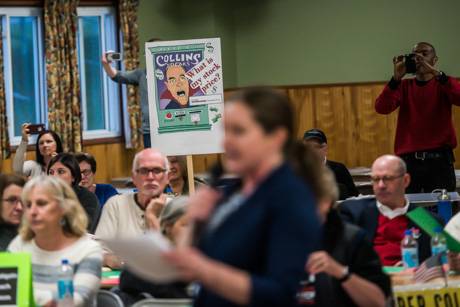 Image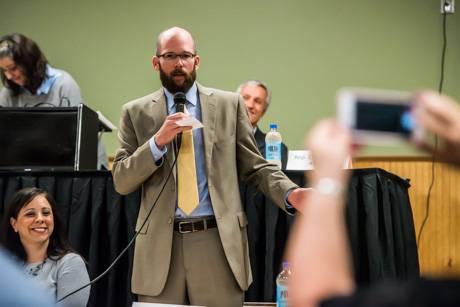 Jeremy Besch
Image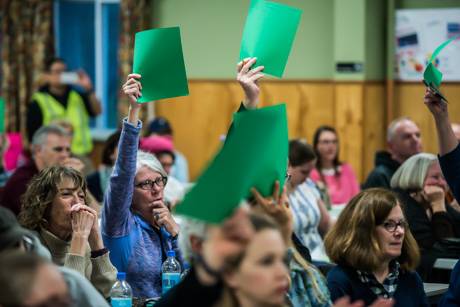 Image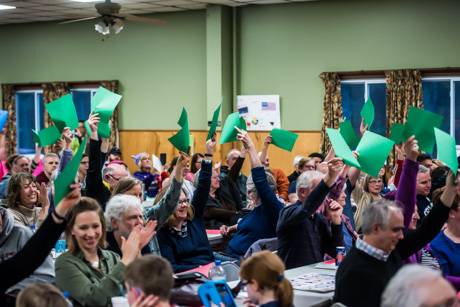 Image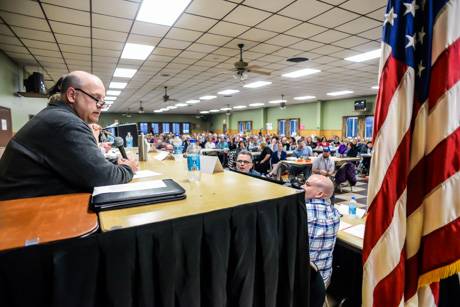 Image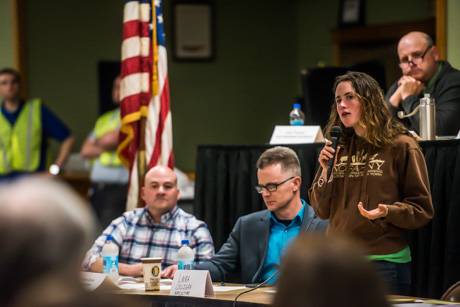 Laura Colligan
Image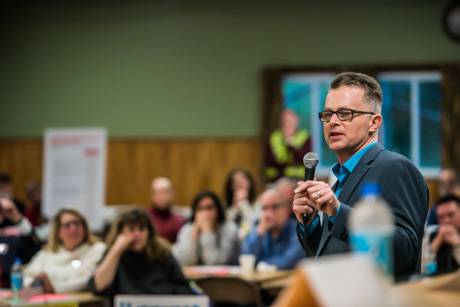 Andrew Beiter
Image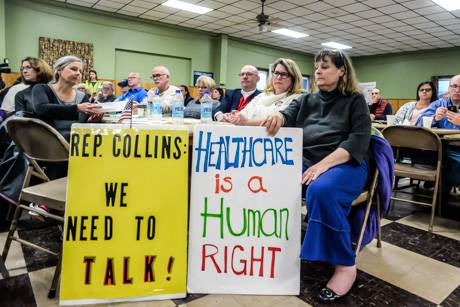 Image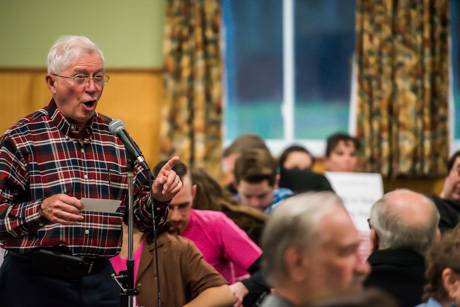 Walter Eckert, of Mendon
Image