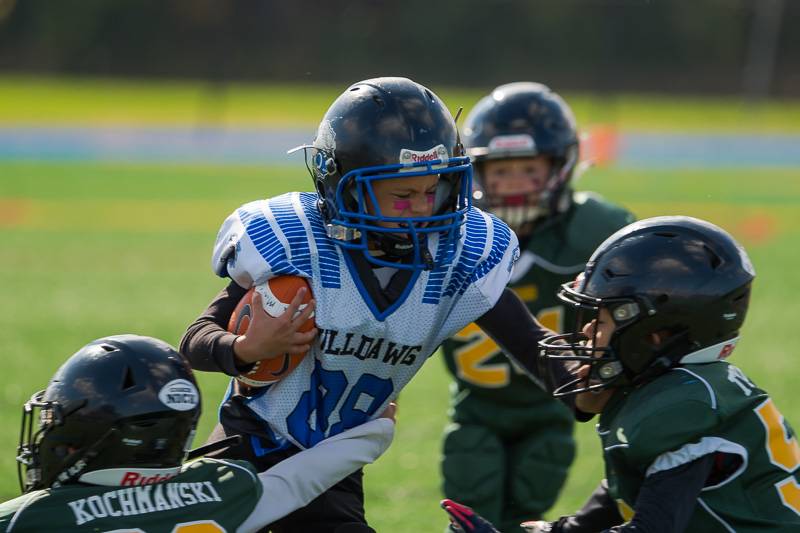 Now in their 12th year, the Batavia Bulldawgs' "family ties" are as strong as ever.
The youth football and cheerleading program has grown substantially since its start in 2011 thanks to a one-for-all and all-for-one philosophy that values each and every member of the organization, said Commissioner John Reigle on Saturday afternoon as he watched his players take on Tri-Town and Akron at the new Genesee Community College field.
"What makes the Bulldawgs truly special is the athletes, volunteer board members, coaches and families that take part in it," said Reigle, who is one of the founding fathers of the program (along with Matt Della Penna, Paul Grazioplene, Tyrone Woods and Ken Proefrock). "I play a small part in this wonderful organization, and it's been an honor."
The Bulldawgs are comprised of four teams – Beginners (ages 6-7), Mini (ages 8-9), Jayvee (ages 10-11) and Varsity (ages 12-13) – with 25-35 players on each squad. They are supported by the cheerleading squads, which currently list 72 girls.
"We've come a long way," Reigle said. "The first year, we had 52 players, and we didn't start the cheerleading until the second year."
Reigle mentioned that he coached his oldest son, Bryce, during that initial season. Bryce continued through every level and now is one of the Bulldawgs' assistant coaches.
"Right now, we have two junior coaches who came through the program – Bronx Buchholz and Karvel Martino – and are standout players for the Batavia High varsity team," Reigle said.
The Bulldawgs aren't officially affiliated with the Batavia City School District (of which Reigle is a Board of Education member), but they have forged a tight relationship over the years.
"We definitely see ourselves as a feeder system for Batavia High football," he said. "(Former) Coach (Brennan) Briggs promoted it that way, and Coach (Alex) Veltz has continued that. He sees us as one big family – the Bulldawgs and the Blue Devils. Our goal is to have the kids with us for eight years and then see them move into the school football program."
Reigle said Veltz conducted coaching seminars for the Bulldawgs, and the Mini division team enjoyed a Blue Devil Experience Night where they took on the pad-less BHS varsity squad in a fun-filled exhibition game.
The head coaches are Scott Perry (Beginners). Gary Good (Mini), Reigle (Jayvee) and Matt Beach (Varsity). Kate Smith is the cheerleader director.
The Bulldawgs compete in the Niagara Orleans Football Association, which also includes Tri-Town, an Alexander-based organization with a rich history in its own right; Akron, Attica, Albion, Newfane, Roy-Hart, Pembroke, Le Roy and Holley.
The players and cheerleaders' membership dues enable them to participate over nine weeks, with each member receiving uniforms and equipment.
Reigle said playoffs are scheduled for Oct. 21 at Van Detta Stadium for the Mini, Jayvee and Varsity divisions, and the championship round is set for Oct. 28, also at Van Detta Stadium, for all divisions. The cheerleading "playoffs" will take place on Nov. 4 in Lyndonville.
Later in November, each Bulldawg team is treated to a season-ending party at the Polish Falcons on Swan Street in Batavia, Reigle noted.
"Every participant receives a plaque at their banquet," Reigle said. "It's our way of letting them know that 'once a Bulldawg, always a Bulldawg.'"
For the record, all four Bulldawg squads were victorious on Saturday. The Beginners beat Tri-Town, 26-7; the Minis defeated Tri-Town, 20-13; the Jayvees blanked Tri-Town, 32-0, and the Varsity downed Akron, 26-0.