August 27, 2017 - 5:33pm
Genesee County 4-H Dairy youth compete at NYS Fair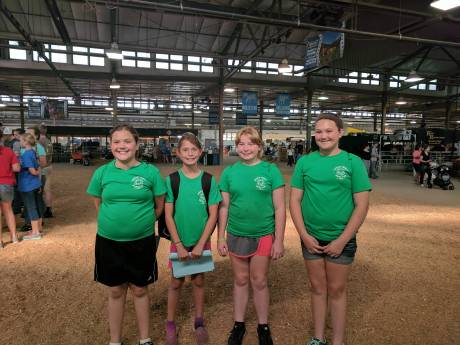 Dairy Challenge Team (from left): Jillian Brewer, Renee Uberty, Maggie Winsper, Amelia Brewer.
Submitted photos and press release:
Several youth from the Genesee County 4-H Dairy Club competed at two dairy events held at the New York State Fair in Syracuse.
The Dairy Challenge contest was held on Aug. 23 and is a contest in which youth are quizzed at stations on different dairy topics such as: nutrition, anatomy, physiology, and product/equipment knowledge.
Genesee County 4-H Junior Team participants were: Amelia Brewer, Jillian Brewer, Maggie Winspear and Renee Uberty.
The Dairy Judging Contest was held on Aug. 24 and allowed youth to be the judge; scoring animals on dairy character and functionality and structural correctness of the animals.
The following youth represented Genesee County 4-H:
Novice Teams 
Genesee Team 1: Caroline Luft, Maggie Winspear, Bing Zuber -- Second Place
Genesee Team 2: Adison Norton, Renee Uberty -- Fifth Place
Novice Individuals
Bing Zuber -- Fourth Place
Adison Norton -- Sixth Place
Caroline Luft -- Seventh Place
Maggie Winspear – 12th Place
Renee Uberty – 14th Place
Junior Team
Amelia Brewer, Georgia Luft, Mason Werth, Claire Mathes, Jillian Brewer) – Eighth Place
Junior Individuals
Amelia Brewer -- 21st Place
Georgia Luft -- 24th Place
Mason Werth -- 34th Place
Claire Mathes -- 41st Place
Jillian Brewer -- 49th Place
Senior Individual
Mary Sweeney -- Sixth Place -- Individual and Fourth Place -- Reasons.
Mary will return with the top 25 contestants, for a second round of the contest on Sept. 1. She will be competing for a spot on the New York State 4-H Dairy Judging team to represent New York at a National Competition in Madison, Wis., World Dairy Expo.
We are very proud of all the our youth for competing at the state level and look forward to going back for next year's competition. Thank you to our 4-H Dairy Club Volunteers who helped make this opportunity possible.
Dairy Judging Team -- back row: Amelia Brewer, Maggie Winspear, Renee Uberty, Jillian Brewer, Mason Werth, Adison Norton; Front row -- Georgia Luft, Bing Zuber, Caroline Luft.