October 4, 2011 - 11:14pm
School board closes public forums on building consolidation, now has six months to choose a plan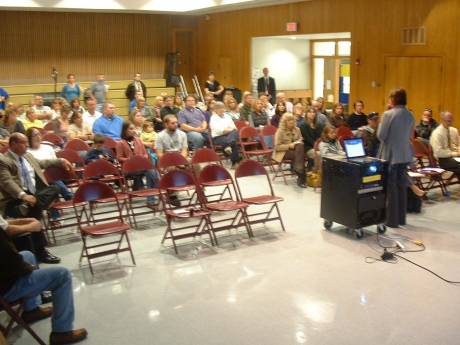 More than 60 parents gathered at Jackson Elementary School on Tuesday evening for the final public forum on the pending city school district building consolidation.
Most of the acid-tongued sentiments heard at the first building consolidation forum last month were absent this time, although several parents did bring up some already-heard concerns, such as the financial worth and viability of actually selling the Washington Avenue administration building. Those concerns were readdressed without issue.
The only true "new" idea proposed was closing the Batavia Middle School. One parent proposed shuffling the district's 6th-, 7th- and 8th-graders off into the elementary and high schools, as a way to save neighborhood schools. Administrators expressed that they had considered the idea before, but eliminated it due to the size of the middle school and the amount of learning technology it currently houses for those students.
Now, the Batavia City School Board has six months to choose from a number of different plans for building consolidation. Those plans might do anything from keeping all three elementary schools open in some capacity, to shutting one down and running two larger neighborhood schools, or closing two schools altogether and housing all elementary students in an expanded John Kennedy School. Click here for coverage from WBTA News outlining all of the proposed plans.
The school board will mull over the options with help from the Budget Ambassadors committee. A final decision on the building consolidation is due in March.
October 4, 2011 - 11:47pm
#1
October 5, 2011 - 2:00pm
#2
What is the real reason that the Board wants, or needs to close down the building on Washington? I guess I need to pay more attention!