June 9, 2014 - 11:37pm
On narrowest margin, council approves $1,900 for Downtown flowers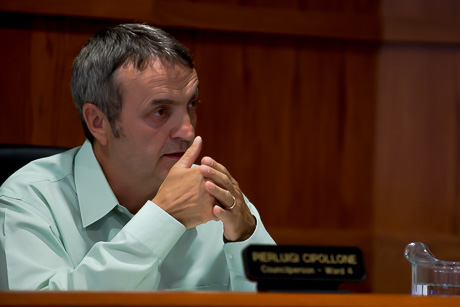 WBTA contributed to this story.
It took the City Council 20 minutes to debate whether the city should reimburse the Business Improvement District $1,900 for flowers.
In the end, the resolution passed 5-4, but not before some sharp words where shared in the council chambers.
Councilwoman Rose Mary Christian looked around the room during the debate and wondered why Don Burkel, BID director wasn't there, "so we could rip his ass."
The request for the reimbursement didn't quite come from Burkel, however, it came from Councilman John Canale, who invited Burkel to submit a request for reimbursement. Canale saw it as a symbolic gesture to show common cause between the City Council and the business community. 
Councilwoman Kathy Briggs said the city already does enough for Downtown. The sidewalks are clean, the medians are beautiful and city crews hang the flower baskets.
"The fact is, we just saw this for the last time in our last packet and I'm like, 'oh, what's this,' " Briggs said. "The fact that a few council people were talking about it beforehand, planning it, then why didn't we know about it in a committee report? Why weren't we told about it. I got it in my packet and I'm like, 'what's this?' They didn't come to us at budget time. If you want this done, come to us and let's talk about it, but for me to find it in my packet and then decide it, no."
Councilman John Deleo also opposed the idea.
"I promised voters I would be financially responsible with their money," Deleo said, "but flowers don't rise to that level." 
"It's not just about making Downtown pretty," countered Councilwoman Patty Pacino, "it is about making Downtown attractive to new and existing businesses."
The BID fronted about $3,900 for the hanging baskets.
"I supported Vibrant Batavia because I wanted to bring pride back to the city," said Councilman Pier Cipollone, who spoke at length about the need to restore pride in Batavia. "If more people have pride they'll have a better feeling about being Downtown."
Also Monday: 
The city spent a total of $10,700 during the last fiscal year defending itself against a lawsuit filed by the City Centre Mall Association.
The figure was obtained by resident John Roach through a Freedom of Information Request. Roach complained that the bills he obtained were not "itemized."
City Manager Jason Molino countered that Roach only requested a total amount for mall litigation and if an itemized accounting was requested, it could be provided.
The legal services summarized in the 2012-2013 fiscal year were incurred before the city filed a countersuit against the Mall Association earlier this year.
June 10, 2014 - 8:30am
#2
CRACK POTS, FLOWER POTS AND POT HOLES!
The Batavia Improvement District (BID) and their supporters required five votes from The Batavia City Council to appropriate $1900.00 of our tax payer dollars for flower pots on Main Street; half the cost of the $3800.00 BID has already spent on flower pots.
BID asked for it and received; despite the fact BID Director Don Burkel couldn't be bothered to show up in person to ask for our taxpayer money, and despite the fact BID has already been given tens-of-thousands of our taxpayer money.
BID and their supporter's theory, marketing strategy, wishful thinking; crack pot proposal or good intentions.....call it what you like; mandate spending taxpayer money on flowerpots to generate increased revenue for businesses in the City.
One predicate of the theory; the marketing strategy; the wishful thinking; the crack pot proposal; the good intentions; believe flower pots will entice out-of-town-commuters driving through the City to miraculously stop, awe struck, and park their cars to smell the daisies.
Consequently the intoxicating scent (please smell the daisies) and colorful vista of the said flowers pots will inspire drivers and passenger alike to spend their money here. Perhaps the same theory applies in part to City Taxpayer.
Councilwoman Pacino enlightened us in her usual rambling style to defend the expenditure when she shared "I feel like Shirley Temple when I drive down the Main Street and see the flowers." Now there's a sound and concise reason to spend taxpayer dollars on flower pots.
Councilman Cipollone said in part "I want to bring pride back to the city."
Councilman Cipollone; I wasn't aware that pride had left the City, or that the Citizens of the City of Batavia are as shallow as to need flowerpots to inspire or instill pride in our Community.
At the Council Meeting, Councilman Canale passionately stated "We want to partner with the BID. It's $1,900 for crying out loud!"
There are many types of partnerships, Councilman Canale. If it's only $1900.00 for crying out loud; reach into your own pocket and pay for the flowerpots to consummate your partnership with BID.
Another predicate of the crack pot is that money spent will result in additional sales tax to lower property taxes for all; including those taxpayers who have already purchased flowers or hanging baskets for their porches from their own pockets.
The predictable vote of five to give BID an additional $1900.00 of our taxpayer money is a contemptuous slap in the face to taxpayers and homeowners.
On June 3, 2014, I returned home from work at approximately 11:30PM after pulling a double shift. I reside at 20 Washington Avenue on the corner of Washington and Dellinger.
By Midnight there was a major water main break on Dellinger across from my house and my water was shut off. The professional and dedicated men from our Water Department were on the scene immediately. They were on site working hard from approximately midnight until six the next morning when I left for work. However, before I left, I stopped to thank them for a job well done.
Without water, I can't make my morning coffee (actually my wife Cindy makes it for me) let alone water our flowers and hanging baskets; and Cindy waters them too.
There were large potholes on Dellinger left over from winter that were fixed; my thanks to the fine hard working people in Batavia's DPW.
No doubt, there are more potholes to be filled resulting from a particularly harsh winter; as there will be more waterline breaks and sewer problems attributed to an aging infrastructure; all appropriate; reasonable and responsible expenditures of our tax dollars.
Thank you Councilman John Deleo; Councilman Eugene Jankowski; Councilwoman Kathy Briggs and Councilwoman Rose Mary Christian for being the adults in the room and voting NO!