March 20, 2018 - 2:06pm
St. Joe's Special Education teacher nominated for Inclusive Teacher of the Year in Buffalo Diocese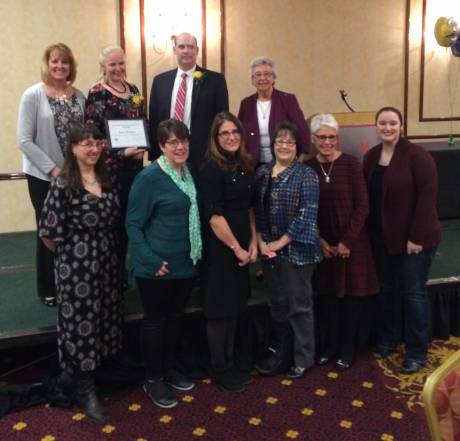 Submitted photo and press release:
St. Joseph Catholic School is proud to announce that its Special Education Teacher, Mrs. Kate Winters, was nominated for the Inclusive Teacher of the Year award.
The Foundation for Inclusive Catholic Education (FICE) held its fourth annual Taking Flight Dinner on March 8th where it announced this year's nominees.
Being nominated for this award is an honor as it recognizes the teaching professional who has dedicated their time, compassion, and creativity toward making an impact on the lives of students receiving inclusive education within their school.
Congratulations to Mrs. Winters as well as the nine other nominees from Catholic Schools within the Diocese of Buffalo.
Pictured above are: Back row, from left – Karen Green (St. Joseph School Principal), Kate Winters, Christopher Suriano (NYSED Assistant Commissioner of Special Education), and Sister Carol Cimino (Superintendent of Catholic Schools for the Diocese of Buffalo); Front row, from left – Gina Bergman, Elizabeth Hofmaster, Sharon Fischer, Marianne Clattenburg, Diane Fraser, and Alicia Palmer (St. Joseph School teachers).
March 20, 2018 - 2:36pm
#1
Congratulations Kate. Great job. It is a well deserved award.