May 26, 2012 - 10:20pm
BID fills 14 planters with flowers along Main and Ellicott streets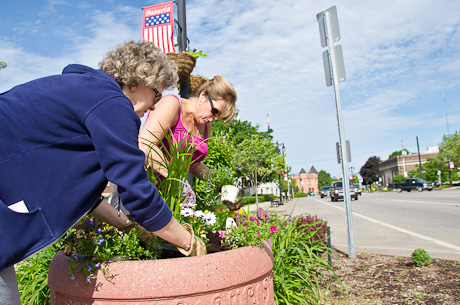 About a dozen volunteers associated with the Business Improvement District hit the streets of Batavia today to plant flowers in a series of terracotta planters placed at strategic locations.
The planters are part of an ongoing beautification effort for downtown and in all 14 were purchased and filled with flowers and grasses.
"When you look at Niagara on the Lake, Saratoga, any of those cities, when they have flowers, people do talk about them," said Don Burkel, executive director of BID. "They make people feel better. It also attracts people to come here. They lend a vibrancy to our community."
The planters were placed at the main intersections on Ellicott and Main, as well as some along Ellicott Street, where Burkel said the area could use a little more color.
Above, Marcia Gann and Mary Valle fill a planter at the corner of Main and Court streets.