February 7, 2014 - 10:20am
Cat found on Thruway missing its owner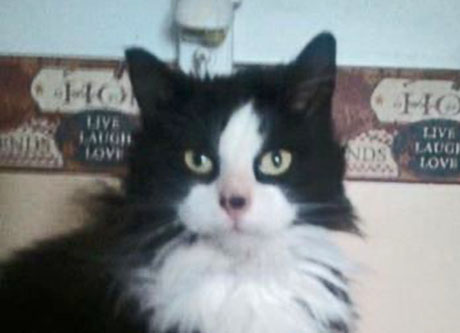 Is this your cat? Lori Vosburgh is trying to help find the feline's rightful owner. Here's what she says about it:
Jacob Bukowski was driving on the Thruway Jan. 31st, when he saw this cat laying down in the median between the Pembroke and Depew exits on the Thruway, right before the South Newstead RD overpass and 4 miles east of the Clarence Travel Plaza (Tim Horton's service area).
She was thin, cold, hungry and the hair around her neck was matted. He took her home and then to the vet the next morning. She is a young female, not micro-chipped, declawed and spayed. Instead of leaving the hair matted they shaved a little of it off. She was clearly an indoor cat and very friendly. She smelled like a farm and for obvious reasons was very dirty.
We think she may have been outside for at least a month, as another woman tried to rescue her the first of January but was unable to due to safety concerns with traffic. She reported it with the police but they must not have been able to rescue her.
She's a beautiful sweet cat and I'd like nothing more than to find her owners, or someone that would be willing to take her in. It's amazing that she made it through the bitter temperatures and snowy conditions!
If it's your cat or you can help find the owner, call Brittany  at (585) 297-0297.
February 7, 2014 - 11:57am
#1
Just shared it on Twitter and Facebook! Hopefully, we will find this kitty's owner!!
:)
February 7, 2014 - 5:13pm
#2
I remember seeing a posting on the bulletin board at Neptunes that a lady's roomate took two of her cats, a 10 yr old and a 1 yr old both Females that were spayed and declawed and dropped them off at an unknown location locally Perhaps call Neptunes for her contact info. It would be great if this was one of her fur babies.
February 7, 2014 - 8:06pm
#3
The same poster was at Batavia Animal Hospital (Perry Pet)