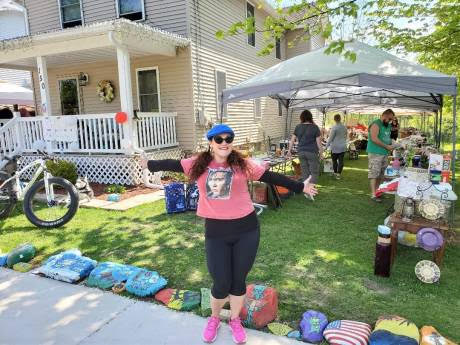 Tucked between Mother's Day and Memorial Day weekends is another annual two-day event that organizer Angelina Pellegrino hopes is the "best one yet."
It's the third annual Yard Sale for Habitat for Humanity of Genesee County, and the fundraiser comes in handy for household spring cleanings, she says. Get ready to shop from 10 a.m. to 4 p.m. May 20 and 21 at 150 State St., Batavia.
"We're spreading the word now so that we may collect as many items as we can … all proceeds go directly to the next family moving in," Pellegrino said Tuesday. "As being the eighth habitat homeowner in Genesee County, my family and I like to give back to such a tremendous organization. I know people will be spring cleaning as the weather continues to get nicer, and instead of tossing out what they don't want or donating it elsewhere, we could really use any donations at this time."
Nothing is off limits for donations, she said, from clothing to small furniture and other household items, as long as they are items that people would want to buy.
Those picture frames you have no use for? Kitchen gadgets that just sit in the pantry? End tables that no longer fit the new living room decor? Clothing that's now a size too big? Or maybe those Christmas decorations that don't get used when you're vacationing in the winter? Check, check, and check — pack them up and bring 'em on over.
Habitat homes are either built from the ground up or renovated and require some sweat equity from the future owners and the typical maintenance and financial commitments once they're in, and Pellegrino has said that extra spending money would be most welcome for those extra needs around the home.
The nonprofit isn't about giving families a house but a belief that "we invest in people's futures when we invest in housing," the agency states online. Its latest prospective homeowner signed a contract on March 14.
People can drop off their items at 150 State St., Batavia, or Pellegrino will pick them up.
For more information or to arrange for pick-up, call her at 585-356-4867 or email [email protected]
File Photo of Angelina Pellegrino at a past Habitat yard sale, by Howard Owens.