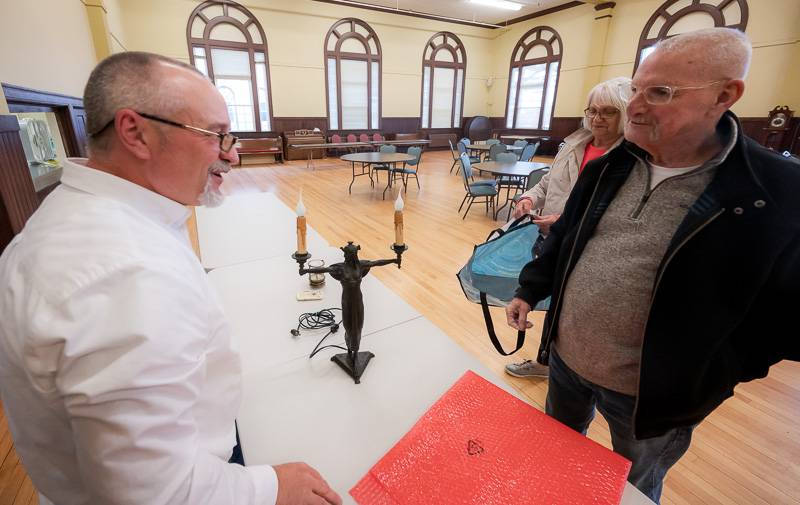 It was indeed a bit like the set of an episode of PBS's Antiques Roadshow at the First Presbyterian Church of Batavia on Saturday, with local residents walking in carrying their treasures and experts giving sharing what they observed about the item while the owner awaited the verdict: Priceless or worthless.
There were items of little or no value, such as the windup Victrola, which is a great artifact but a common item in antique terms. Of keener interest to Todd Jantzi, the Bontrager's auctioneer who shared his judgment on a several items during the nearly daylong appraisal event that was a fundraiser for the Holland Land Office Museum, was the old shellac 78s the owner of the Victrola brought in.  Those are not common and, in fact, among the hardest records for collectors to find.
Many items, of course, were of middling value, like the mantle clock brought in by Crystal Rhinehart of East Bethany.
It was made by Ansonia, a well-known maker of clocks with a solid reputation, Jantzi told her.
Rhinehart said the clock had been in her family since it was new.
"This would have taken a little bit more funds to purchase it, so it probably would have kept better time than some other clocks," Jantzi said.  
Then he joked, "We usually only see these from the homes of the rich people in East Bethany." 
He valued it at $100 to $225 at auction.
Other experts on hand during the day were representatives from Cottone Auctions and Schultz Auctioneers.  A variety of items were brought in from musical instruments, such as a guitar, and pieces of art, such as a colorized 1880s etching of the famous duel between Aaron Burr and Alexander Hamilton.
At the end of the day, Gary Harkness and his wife, Debbie, walked in with a bag of items for appraisal.  
The largest item was the one that came out of the bag first. It was a cast white metal lamp with two candle-shaped lights.  Harkness said it sits on his mantle as a night light.
It's from the 1920s or 1930s.
"No cracks, which is uncommon for that age," Jantzi said.
Harkness pointed out a small piece of metal missing, and Jantzi said, "But usually you'll see age cracks, and there's none here."
At auction, Jantzi said, $400, maybe $500. 
Then Jantzi picked up a scrimshaw-engraved bone card-carrying case and nudged a photographer, "You'll want to get a picture of this."
Above an etching of a patriotic woman was the inscription, "Col Emory Upton. 124 New York Vols." 
The other side was inscribed, "In much appreciation from U.S. Grant, Nov. 1863."  
Upton, of course, is the Batavia-born Civil War hero, who would become a general before the war's end, and whose likeless stands vigil at Main and Ellicott in the city.  Grant, a future president, would, in a few months' time from the date of the inscription, take over command of the U.S. military and lead the Union to victory over the traitorous southern states. 
Harkness said he bought the case about 25 years ago from a dealer in Canada for $600 or $700.  
Jantzi said it's such a rare item with such historical significance, he couldn't put a price on it.
"That is cool, Gary. That is cool," Jantzi said. "The only way you're gonna find out is to put it up for auction. That's the only way you'll ever find out, but you hate to get rid of it to find out."
Harkness said he's thought about a heritage auction, but, he said, "It's not going anywhere soon." 
The historical treasure has been displayed before at the Holland Land Office Museum, he said.
Kind of like a real episode of "Antiques Roadshow," Harkness coming in at the end with Upton's card box from Grant, gave the day of appraisals its dramatic closing.
Harkness let a couple of volunteers hold the case, and one woman said, "Oh, my God" as she looked at it in awe.
"And you touched it," said the other. "You touched it."