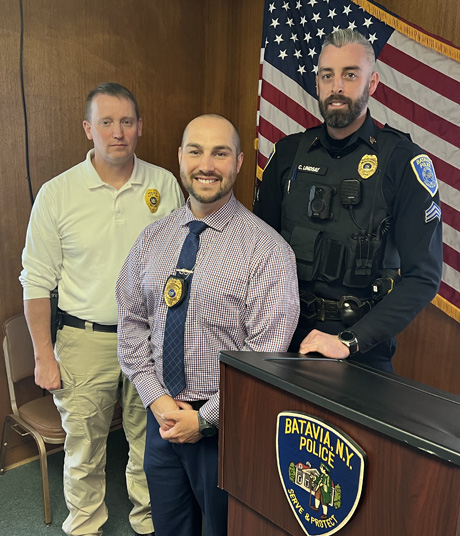 Ask the people -- police officers -- who deal every day with crime victims, and those accused of committing the crimes, and New York's landmark 2019 bail reform law just isn't working.
It isn't working for victims, because they either get re-victimized, or there are new people victimized because accused criminals are free sooner to commit new crimes, or victims simply decline to press charges because they know the accused person will just be issued an appearance ticket.
And it has also failed the people it was supposedly designed to help: criminal defendants.
Those accused of a crime are now more frequently set free to commit new crimes and dig themselves into a deeper hole, or they don't appear before a judge or go to jail where they are afforded the opportunity they need to enter substance abuse programs.
"The joke is (among officers), it's like fishing. It's 'catch and release,'" said Batavia PD Det. James Defreze.
Chief Shawn Heubusch added, "It is catch and release, and they understand, the officers understand, what the laws are, and we're here to enforce the laws. But the laws are not helping our citizens. At least this particular law is not helping our citizens. It's not helping the community at large."
The Batavian spoke with Heubusch, Defreze, and Sgt. Christopher "CJ" Lindsay this week about the impact of bail reform on the department and the community after a series of press releases from Batavia PD about individuals who have been arrested multiple times on warrants for failure to appear for various minor offenses.
In press releases about arrests, Batavia PD has recently been highlighting criminal defendants who get are repeatedly arrested on failure-to-appear warrants three, four, or five times.  Unfortunately, there isn't clear data that judges are issuing, in the aggregate, more warrants, because, by policy, the department no longer seeks warrants on unpaid parking tickets, and with the legalization of cannabis possession, there are fewer marijuana-related arrests. That means there is no way to make a meaningful comparison from one year to the next of the total number of warrants.
The Why of Bail Reform
The path to bail reform in New York perhaps began in 2015 with the death of Kalief Browder. Browder had been held in Rikers Island on cash bail of $3,000 after being accused of stealing a backpack.  Browder said he was subjected to mental and physical abuse. His charges were dropped after three years of pre-trial condiment for lack of evidence. Upon his release, he committed suicide.
Advocates for bail reform said confining poor people, who can rarely make bail, on charges without conviction was a violation, at least in spirit, of due process. Advocates pointed to statistics that poor blacks, especially in the state's cities, were more likely to be held on bail, than white defendants. 
In 2018, in his State of the State speech, Gov. Andrew Cuomo picked up the cause of bail reform.  
"Let's be painfully honest: The truth is that our Lady Justice is still not colorblind, and her scales are still not balanced," Cuomo said. "Our bail system is biased against the poor. Too many jails are cruel and inhumane, and our court system is too slow."
Bail reform was approved by the State Legislature in 2019 and was meant to reduce incarceration by limiting the need for defendants to come up with money to pay for their liberty. The new law mandated pretrial release for the majority of nonviolent charges and required that judges consider a person's ability to come up with the cash to pay bail or security to post bond.
On low-level, non-violent charges, officers must issue appearance tickets rather than hold the suspect for arraignment (where, in most cases, they would have been released under the old system). When suspects are arraigned, judges must release defendants without requiring bail and with no conditions on their release ("on their own recognizance").  In certain conditions, they can put conditions on their release ("released under supervision").   If bail can be set, the bail amount must be the lowest amount possible that is affordable for the defendant.  That's why you sometimes see bail set at $1.
There are multiple exceptions and conditions that police officers and judges must follow.  That is one of the complaints lodged by Heubusch.  The bail system is arcane and confusing.  
As an example, Heubusch cited a recent case where a suspect was arrested for burglarizing a restaurant.  The suspect was released following his arrest.  The next day, he burglarized another restaurant.  The judge misunderstood the standards of the bail reform law in this particular circumstance and released the suspect again.  He was arrested 20 minutes later after burglarizing another restaurant.
"So we now have one individual that has three burglary charges -- felony burglary charges," Heubusch said. "Again, he could have been held on that second arraignment, but there was a misunderstanding between the judges as to what they can actually do when it comes to that type of thing."
To help us understand how complex the new bail rules are, Heubusch pointed us to this web page on bail reform for the state's public defenders. It contains this matrix of qualifying (for bail) and non-qualifying (no bail) options. It also contains this flow chart that helps guide anybody in the justice system on when to require bail or when to release a defendant. 
Bail reform makes law enforcement harder
Being a police officer is inherently a risky job, and police officers accept that risk, Heubusch said.  It's also a tough job where officers are expected to deal sometimes with uncooperative or even hostile criminal suspects.  But that aspect of the job has been made worse, by bail reform, Heubusch said.
He said when people understand they're going to get an appearance ticket, they're more likely to flee or or fight with an officer because resisting arrest won't elevate the seriousness of their criminal activity.
"We've seen people run from us, fight with us, and attack us more than they did before, in my opinion, because they know, it's not taken as seriously or, you know, 'haha, I can get away with it. I'm gonna get a slap on the wrist from the judge. See you next week or see you tomorrow,' that type of thing," Heubusch said. "It just seems that the attitude, to resist arrest, to fight with the cops, has increased."
Bail reform has also made it hard to get drug dealers off the street, Defreze said.  
First, the Class B felony of criminal sale of a controlled substance in the third degree is a non-qualifying offense, meaning a judge can't automatically set bail.  Defreze said he's seen dealers back on the street selling narcotics within five hours of their arrest.  
"Pre-Bail Reform, we were pretty effective and successful in removing drug dealers from our community," Defreze said. "We would find people, we would arrest them for possession with intent to sell or for criminal sale, both (Class) B felonies. When we got the indictment warrants, those people would go to jail. Now the majority of these people are getting charged with two to four Class B felonies, and they go see a judge, and they're released. Then people were calling, saying these people are selling drugs in my neighborhood."
That arrest was made after months of work that involved finding and working with a confidential informant, gathering evidence, reviewing the evidence with the district attorney, and presenting the evidence to a judge to get a warrant either for a search or an arrest.
When a recently released dealer just hits the street again, he can't just be arrested on the spot. The whole process must start again.
But now it's harder to find confidential informants.
"Bail Reform, in and of itself, made getting a CI inherently harder," Defreze said. "People used to be, there was some kind of fear that they were going to go to jail for minor offenses. You'd catch someone for stealing from Tops, and they wouldn't want to go to jail for that. They would cooperate to have that charge go away. I mean, CIs for minor offenses are a thing of the past."
Victims
Bail reform hasn't been good for crime victims, the officers said.
"What's been missed during this whole thing, just from my perspective, is we've completely forgotten about the victims," Heubusch said. "We've created a system that cares about the defendants, and we care about the defendants as well, we certainly want don't want to hold somebody for years upon years upon years on petty crimes because that doesn't make any sense. But the victims are now being re-victimized over and over again by the same offenders. So I think that's, that's the biggest frustration that you see from law enforcement because we are out there trying to make sure that our communities are safe."
In March, deputies arrested two men in Elba on property crimes. Under terms of Bail Reform, the deputies had no choice but to release the suspects on appearance tickets. The two men were processed at the Genesee County Jail and released. Upon their release, they allegedly stole a car, leading to a police pursuit across multiple jurisdictions.
Bail reform has made orders of protection less effective, the officers said.
Domestic abuse always involves a human victim, so that means the arresting officer can haul the suspect in front of a judge for an arraignment. That gives a judge a chance to issue an order of protection, but unless the crime is a qualifying violent felony, the judge has -- at least until now -- limited power to set bail.
"I can think of a domestic situation where somebody was arrested for harassment, and they were arraigned in front of the judge, got an order of protection, but they had to be released, and they went right back to the house and violated the order protection," Heubusch said.
Bail reform has also led crime victims to ask officers not to arrest offenders, Lindsay said.
"Obviously, we understand the defendants have rights but like (Heubusch) said, we kind of forget about the victims," Lindsay said. "I've had numerous times where we have a case where the victim wants to have someone arrested, so they'll ask us, 'are they going to be held in jail,' and we tell them, 'no, we can't hold them, so they say 'well, I don't want him arrested then because I don't want to deal with whatever fallout.'"
Lindsay said victims are also frustrated.
"We're probably dealing with more angry victims," Lindsay said.
The law is confusing
Heubusch came to the interview with The Batavian carrying a sheaf of paper. He had printed out the matrix, flow charts, and rules officers, attorneys, and judges must know in order to ensure nobody is jailed in violation of the law.
It's a lot to know and a lot to keep up with, and even sometimes judges get it wrong, he said.
"We had a situation where an individual burglarized a restaurant," Heubusch said. "He was arraigned, released and burglarized another business that weekend. He was arraigned, and the judge misunderstood that it was a new charge and released him. He burglarized another restaurant after he left. So we now have one individual that has three burglary charges -- felony burglary charges. And, again, could have been held on that second arraignment, but there's a misunderstanding between the judges as to what they can actually do when it comes to that type of thing."
Defendants harmed by Bail Reform
When defendants are released on appearance tickets, no judge gets an opportunity to recommend a substance abuse or mental health program. When a criminal defendant is free to re-offend, they sometimes do.
"If you look at it, from the defendants' standpoint, this person now has the opportunity to rack up multiple criminal charges to make that sentence, maybe harsher on them," Heubusch said.
He said his officers have seen defense attorneys ask judges to set bail in cases for the sake of their defendants.
"The only way they know their guy is gonna get help is by sitting in jail because the jail will provide that assistance to them, whether they want it or not," Heubusch said. "It'll at least be in front of them. If they get to walk away from that arraignment without being held, the chances of them going out and reoffending are very good. The chances of them going on or overdosing and dying are even higher."
We asked Heubusch in a follow-up email if he had any data on the number of times defendants have been released from custody only to OD, and Heubusch said, "I am not able to put together stats as quickly as I would like to, but we do have cases where individuals that we know to have substance abuse issues have committed crimes and while out pre-trial they have overdosed and died. If judges had the ability to incarcerate these individuals for, what the lawmakers are calling petty crimes, they would be offered assistance and/or mandated assistance pre-trial. This could keep some alive."
Ideas to reform the reform
The police chiefs in New York, Heubusch said, have their own ideas about how to fix bail reform.
First, end cash bail.  That is, in fact, right in line with what downstate reformers want.  Defendants should either be held pre-trail, with no bail, or released.  That would end the perceived unfairness of people with a bit of money being able to get released while poor defendants must stay locked up, unable to get to jobs or care for families.
"The amount of money sitting in your bank account should not determine if you're a free person or not," Heubusch said.
And allow judges to determine whether a person is a danger to himself, another person, or the community.
"We're the only state in the United States that doesn't have a dangerous statute in our law," Heubusch said. "Bail is set specifically upon reappearance for court. We're the only one that doesn't include dangerousness. I don't know why New York wants to lead the way in that, quite honestly, because the communities are suffering because of it. So eliminate cash bail altogether. There's no reason to have a $1 value on it. You're either held to your release, or you're released upon certain restrictions and then that can be reviewed at your next appearance."
Some reformers consider "dangerousness" too subjective of a standard. Heubusch countered that trying to determine if somebody is a flight risk is a judgment call.
Reformers are concerned that allowing judges discretion raises the specter of bias, and studies show the criminal justice system has a history of being biased against people of color.  Heubusch said race should absolutely not be a factor in who is held and who is released but blanket policies by lawmakers who don't live in the communities dealing with crime are not the solution to racism.
"If judges are using race to incarcerate people, then they should be held accountable," Heubusch said. "We should not be changing the system so that more people can be victimized. We are allowing people who commit crimes to remain free due to decisions by lawmakers who are not dealing with these individuals in our communities."
The officers know the current bail scheme is not helping local communities, they said, because they see it every day.
"You really have to explain to the folks that are there complaining about what's going on in their neighborhood, that we can only go so far," Heubusch said. "The reason this person is not locked up is not because of me. It's not because of the judge. It's because of the state laws that say they can't be locked up. It's because of the state laws that say they can't be evicted from that apartment. It's because of the state law. You know, it's very difficult to explain that to somebody who really just wants to see their neighborhood get better."
Photo by Howard Owens. Chief Shawn Heubusch, Det. James Defreze, and Sgt. Christopher Lindsay