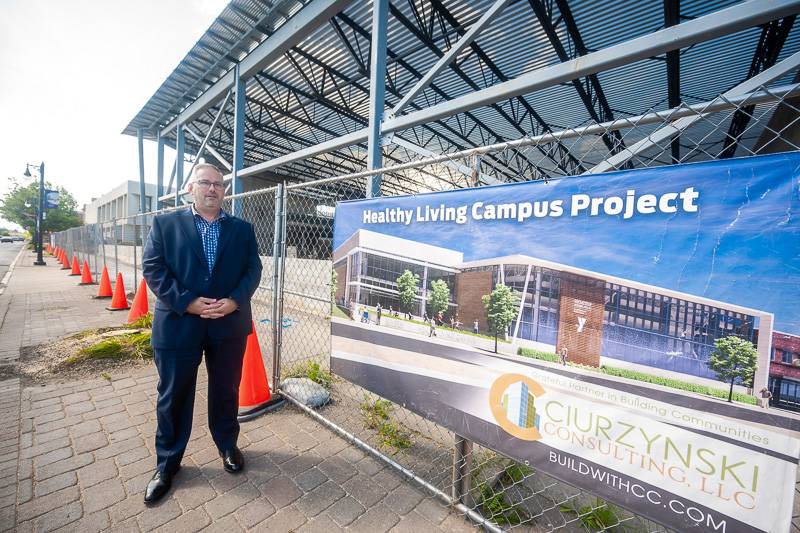 As construction of the Healthy Living campus in downtown Batavia continues to take hold right under the noses of city-dwellers, another Rochester Regional Health project is about to set sail with an opening celebration just over the city's north border on Route 98.
The $44.5 million, three-floor Batavia Medical Campus has been in progress for the last two years, and officials are preparing for a ribbon-cutting next Friday, United Memorial Medical Center President Dan Ireland says.
"Its intended purpose is to create greater access to health care for people around Genesee County, including Batavia, but then Genesee County and the surrounding area. The idea being is we're going to consolidate a number of services into that building. So it's almost one-stop shopping for patients, they can go there and they can get multiple appointments done, potentially at the same time," Ireland said Friday afternoon at his North Street office. "And have ease of access to all the services that we're moving into the building, meaning that we're already offering them in the area, all are being moved there because they're reaching their capacity limits where they are and they needed more space to grow and offer more availability to patients.
"It's bringing new access to healthcare, it's bringing growth potential for the future. And, again, we chose the location because it really creates the most convenient access for folks," he said. "We've worked closely with our (Rochester-Genesee Regional Transportation Authority) bus service for people who live in the city, they can use their on demand service and have the bus bring them out. We're not necessarily putting a bus stop in out there right now because to do that RG RTA has to do a lot of assessment, but they they've made it clear they're willing to offer services to people who call and request transportation to that campus."
A merging of services
Coming from the hospital grounds, Batavia City Centre and the Jerome Center will be Batavia internal medicine, Batavia Pediatrics, Sans Constellation Heart Institute, the pain center and neurology, Genesee Orthopaedics & Sports Medicine, general, vascular and a bariatric surgery practices, and lab, X-ray, ultrasound and MRI services.
Once services of X-ray,  lab, ultrasound, mammogram and dexascan are moved out of the Jerome Center, what will fill that empty space?
"I already have our teams looking at that," Ireland said. "What does our community need? That's a great space. Is it chemical dependency? Behavioral health? We will be talking to GCASA and to (Mental Health Director) Lynda Battaglia."
While many of those service providers were filling to occupancy with no room left to expand, moving them out will afford more room for other physicians and practices looking to rent space, Ireland said.
"We have a number of services that need space, and we have private physicians in need of space looking to rent," he said. "We're in health discussions with them."
Urgent care, which was closed some time ago, will be moved back into the Jerome Center, and other areas have reached their life limit, such as 207 Summit St., which will be knocked down to create more parking space as part of the new configurations, he said. 
An important term in construction these days, apparently, is "shell space," carving out empty cavities for future use. There will be some shell space as part of the medical campus for a Phase II down the road, as "we know the needs of the community keep evolving," Ireland said.
Architects were thinking some time ago at the UMMC campus and built in some of that "shell space" on the second floor over radiology. That's "on our radar for the next big project," Ireland said, for a new intensive care unit to shore up the current one that's circa 1954. 
"We're navigating the fundraising," he said, for a cost of somewhere in the ballpark of $12.5 million.
There's no definite timeline for that project at this time.
Covering the details at Batavia Medical Campus
There is covered parking under the Batavia Medical Campus building for patients to alleviate a need to walk across windy parking lots, he said. All providers are to make the transition at the same time by the end of August, and patients are to be notified of the change in location when making appointments, he said. 
Touted as a "destination campus," the 112,000-square-foot site will be home to experts in more than 20 specialty areas in a state-of-the-art multi-provider medical complex at 8193 Oak Orchard Road.
Specialties include: cardiac, endocrinology, gastroenterology, general surgery,  imaging, infusion, laboratory, neurology, orthopedics, podiatry, otolaryngology, pain management, pediatric, primary and urgent care, vascular surgery and women's health specialty services.
And on the other end of town, there's still a lot of construction going on at Healthy Living, with an estimated 40 percent completion at this point, Ireland said. 
Although not done, it has caused a stir among some people who have come back to visit and noted the new development and flurry of contractor activity. 
"That's the exciting part about it. I mean, I think we knew, once we determined what the design was gonna be, it was going to be transformational on Main Street. And I think when we're all said and done, and the new building's up, and the old YMCA is down, I think it's just going to be a beautiful part of the Main Street streetscape," he said. "And the goal is just to be inviting people to come in. I mean, the beauty of the partnership with the YMCA is we can bring health and wellness right together and bring doctors to work in closely with people who are going to the Y for their physical fitness or wellness activity, and folks at the Y can easily get to access to our preventative care work."
So who will be moving into the new digs?
This project has been ongoing this past year, including the razing of the old Healthy Living headquarters in Cary Hall and erecting concrete walls and foundational structures for what will eventually house services from 164 Washington Ave., including breast cancer and colon screenings, diabetic educators, smoking cessation classes, and Baby Cafe, plus Batavia Primary Care from the Jerome Center and a big meeting room to provide education classes for employees, a computer training lab, and a multi-purpose room for a teaching kitchen.
"So we can offer bigger classes and better access to people for learning and growth, and on the Y side, the state-of-the-art pool and gymnasium and workout equipment. Really, it's going to be an exciting place to go. And as I said, very inviting, it's designed to draw people to come in, you know, use the multi-purpose room, use the services at that location, gather there," he said. "And the outside landscape that we're putting in will be inviting to do outside programs.
"So, like you said, we started with a beautiful day like today and want to be out, I mean, you could have meetings like this right out on the terrace that's going to be built there, or if you want to do exercise or yoga or things like that, I mean we're envisioning those things happening during the nice sunny days," he said. "But then when it's cold and damp, we'll be able to come inside and be warm inside with the bright colors and the, really, I think, the inviting atmosphere."
So while spectators are seeing scaffolding and rubble, wondering just why it's taking so long to reach the endpoint, what's been happening at this new facility spot?
All of the plumbing is being dug, the decks are being poured, as the goal is to get it enclosed before winter, he said. 
The pool is slated to be dug out for installation soon, with a completion date still set for mid to late summer 2024. 
"The whole intent of the project is to build the new (YMCA) before closing this one," he said. "We want to keep it open for as long as possible without disruption."
Foundations and footers have been poured, and steel girders put in along with block walls, he said. But there are also open spaces, and that's intentional. 
"What I think what's really cool about that location is, there's a lot of space that still looks like what's supposed to go there because it's wide open. But a lot of that's glass, and that's what's going to be nice because it's going to create a nice footprint, they'll be glass and panels that'll be going out there," he said. "Our biggest thing we didn't want to do is turn it into just a brick structure that was just, you know, brick, we wanted to make it more of a feeling." 
That layout is every bit symbolic of the way in which this project began — it originated from a feeling communicated by the city, school district, county, Youth Bureau, hospital and YMCA leaders.
The numbers spoke loud and clear that this was no small or easy task: $10.5 million from UMMC, which received a $7.5 million state transformation grant, used $1 million from capital reserves and raised another $2 million from donations, and about $22 million from YMCA, a substantial amount to come from an ongoing fundraising campaign.
"I think when we started, people weren't sure it was going to be possible. And it was, and is, and so it just goes to show the testament of our community. I mean, Batavia and Genesee County, we want to have good services here, we want to have places for people to go that are safe and welcoming and whatnot. And I think when you introduce something and bring the community in like we did … it wasn't like one person saying, I want to build a Y or one person saying I want to build this campus, or I want to build a hospital building or whatever … everybody was talking together, saying what can we do and what would be the most impactful? And that's the genesis of what is now being built," he said. "So it's truly a community building that came from the needs of all parts of the community coming together. So that's what makes it very special for me. Because when it's said and done next year, I mean, we're going to open the doors for a lot of people to get access to stuff that they may not have experienced previously."
Photos by Howard Owens.