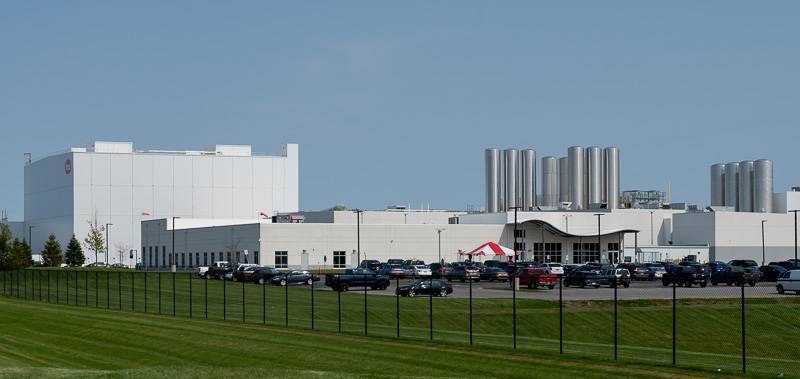 Press Release:
The proposal reviewed by the Genesee County Economic Development Center (GCEDC) for HP Hood's $120 million expansion at its September 7, 2023 board meeting marks a significant milestone for the Genesee Valley Agri-Business Park in the town of Batavia. 

Since opening in 2011, the Ag Park and supporting infrastructure have generated investments of approximately $607 million by HP Hood, Upstate Niagara Cooperative, Marktec Products, and O-AT-KA Milk Products that have resulted in a cluster with over 1.2 million sq. ft. of food and beverage facilities set to employ over 1,000 professionals in the food processing industry, which is the leading employment sector in Genesee County and GLOW region.

HP Hood's investment also marks another $100+ million project in Genesee County, and the fifth largest in the county's history, four of which have been announced in just the past year. 

These projects include Plug Power's expansion announced by New York State Governor Kathy  Hochul in 2023 in which the company will be investing an additional $377 million on top of the $290 million investment Plug Power announced in 2021 at Western New York Science & Technology Advanced Manufacturing Park (STAMP). Also in 2023, Edwards announced a $319
million project at STAMP and Horizon Acres Associates announced a $142 million multi-phase development in the town of Pembroke. 

"Our success in regional economic development is the result of the collaboration with our public sector partners as we have worked through the years to prepare sites such as the Agri-Business Park and STAMP so that they are industry-ready with high-capacity utility infrastructure in order to market these assets to companies and in turn the new jobs and investment they are making in our community," said Steve Hyde, GCEDC President and CEO. 

"Genesee County's commitment to growth allows companies to start construction almost immediately which sets them up for sustained success as they expand operations, and we are witnessing that first-hand through HP Hood's recent investment announcement." 

HP Hood's expansion at the Genesee Valley Agri-Business Park includes the construction of a 32,500 sq ft building to accommodate the addition of new batching and processing systems, along with other upgrades that will allow the company to increase capacity and begin the production for a new product line. The expansion project will create 48 new full-time positions while retaining 455 employees. 

"From HP Hood's initial investment of $205 million and 230 jobs announced in 2017, both of those numbers have nearly doubled; the food and beverage sector continues to grow and shows no signs of stopping," added Hyde.

A 2019 SUNY Rockefeller Institute of Government study reported the economic output of labor income and value added by businesses in Genesee County's shovel-ready sites at $809 million – 16% of the total economic output of the county. The study projects that the existing shovel- ready sites could support an additional $4.9 billion of economic output at full capacity.

Genesee County's shovel-ready sites have been designed and strategically located at key transportation routes with access to population centers across the Northeast and Midwest and infrastructure corridors, including access to low-cost hydropower.