July 11, 2018 - 11:22am
Fundraising page set up for owners of the Stumblin' Inn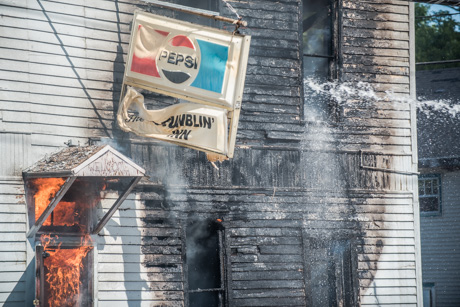 Steve and Jim Goff, owner and manager, respectively, of the Stumblin' Inn in Elba since 1979, have pretty much lost everything, according to a GoFundMe page set up by Jess Goff.
The goal of the page is to raise $10,000 but the page notes that excavation of the remains of the 143-year-old building will cost as much as $25,000. 
The appraised value of the property was only $67,700 and Jess Goff, on the GoFundMe page, said there was no fire insurance on the structure.
In addition to all of the personal belongings of Steve and Jim, including tools, was all the memorabilia that went with 40 years of ownership of a community landmark and a place that hosted countless local musicians for a countless number of shows.
"My dad says that these are all just things, but the saddest part of all of this is the death of so many memories for so many people," Jess Goss wrote.
Both Steven and Jim lived in the building and lost all of their personal belongings.
The Stumblin' Inn hosted many community fundraisers over the years.
There may be other fundraisers in the work but so far nothing definitive has been announced.
Fire investigators have determined the fire was accidental/non-intentional but the exact cause of the fire is unknown. Evidence indicates it started on the inside of the building and it's unknown how long it was burning before it was discovered.
Previously:
July 11, 2018 - 1:24pm
#1