February 13, 2014 - 4:08pm
Lost Dogs: Deacon and Mavis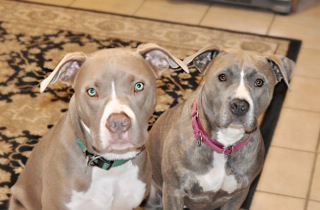 This is Deacon and Mavis. Deacon and Mavis are missing.
Owner Dawn Wolcott said they ran off Monday night and haven't returned.
Wolcott lives in Attica. She isn't sure what direction they headed, but is hoping somebody in Genesee County might know their whereabouts.
They are rescues from Buffalo and Wolcott has had them about a year.
Deacon has a white and green collar and tags. Mavis has a red collar and tags.
Wolcott can be reached at (585) 297-3241.
February 14, 2014 - 12:18pm
#4
What beautiful animals. I am SO glad they were found, they look like happy dogs, so I bet they were glad to be home! Just using up a little "spring fever" energy I am sure.. And Kenny Mistler, VERY nice offer, that is how a community should respond. By the way Nina Kelso........
THIS is what well-cared for pitbulls are supposed to look like.