September 2, 2014 - 9:25pm
New bus company to deliver students to and from Batavia City schools this year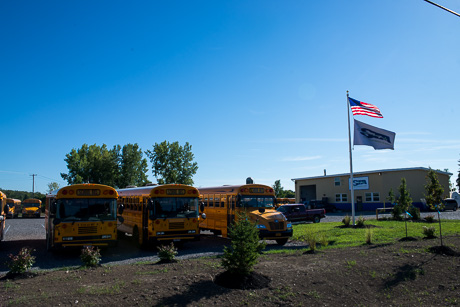 Dozens of bright yellow school buses have been gleaming in the sun (when there is sun) at the corner of Dodgeson Road and Route 98 in Alexander just about all summer long.
The name on the sides of the buses -- Student Transportation of America -- is a new name to Genesee County.
STA is now in town after winning the main transportation contract with the Batavia City School District, which entered into a joint agreement with the Attica School District.
The company purchased a former rigging shop location at 3784 Dodgeson Road in an auction through Bontrager's earlier in the summer.
The state encourages school districts to review and re-bid bus transportation contracts every 10 years, explained Batavia Superintendent Chris Dailey. 
The district experienced many difficulties with the previous contract, Dailey said. 
"The Board of Education decided to bid and increase the accountability and expectations for the bus contractors while also increasing features available to the district with our bus contractors, such as more cameras and GPS," Dailey said. "We bid for 2013-14 but the bid was rejected because of cost and lack of competition."
For 2014-015, the district decided to seek another district for a cooperative bid and reached an agreement with Attica and STA won the bid for regular school transportation, field trips and sports trips.
Attica Bus Company will remain the contractor for transportation of special education students.
BCSD's transportation costs per year is more than $1 million, plus another $731,690 for special education transportation.
"In our contract, the contractor is responsible for all aspects of providing transportation: purchasing and maintaining the fleet, building, staffing, routing of the students, directly handling parent calls," Dailey said.
Two weeks ago, STA announced the release of a mobile device and desktop app that will allow parents to track the location of school buses in the fleet.
"A child's bus is displayed on a detailed map showing its current location in relation to the child's stop, so parents can monitor the bus along its route," the company said in a press release.
The app can be downloaded from the Apple App Store and Google Play.
"Registering for the SafeStop app is easy," the company said. "Parents in select schools simply log on to www.schoolwheels.com from any computer or mobile device to register for the app. They then can link to the Apple App Store or Google Play to download on a mobile device."