Image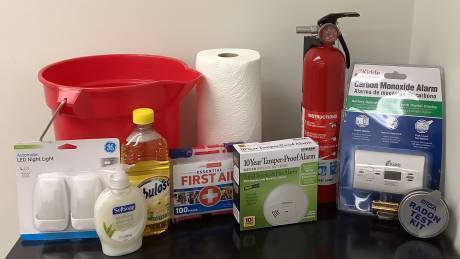 If you've ever had health or safety concerns about certain aspects of your household, but didn't know who to call, don't worry: help is coming your way with the Healthy Neighborhoods Program. And there might even be some free goodies thrown in for participating.
That is, if you live in Wards Two or Five in the City of Batavia. Genesee County Health Department staff will be going door-to-door based on census tracts, and this year it's those two wards, environmental health professional Karen Schmidt said during a recent presentation to City Council.
"The Healthy Neighborhoods program is a grant from the New York State Department of Health. It's a five-year grant and runs from 2020 to 2027. So we just started our second year … health department staff make home visits to people. It's for renters and homeowners, it doesn't matter. And our target area right now is the town and the city of Batavia. Our goal is 200 visits per year," Schmidt said.
Staff goes door-to-door to survey certain potential health issues, such as smoking and asthma. If anyone in the home smokes or has asthma, "we have more information for those people," she said. But it's not all about one's direct personal health, she said.
"We check for fire safety in the home, for working smoke detectors, windows and doors that are accessible in an emergency, that there's not a lot of clutter that would prevent you from being able to leave," she said. "We check for lead hazards in homes that were built before 1978 because that is the year that they banned lead from consumer paint. So for that, we look for deteriorated paint because it's the dust or the particles that are the hazard."
Mind you, this doesn't take off from the initial visit from a stranger at the door. They typically leave a hanger packet of information and set up an appointment if the homeowner is interested in this health and safety review. It also includes indoor air quality, checking to see if anyone smokes inside, and if so, encouraging them to take it outside.
"And then just the general condition of the house, are there major roof leaks, plumbing leaks, are the floors, the stairs, the railings in good condition," she said. "And we have a referral sheet that's to agencies or providers of services that might be applicable. We don't have the budget to do repairs ourselves, or we can try to refer them to community groups to help, and then we have the free supplies (top photo of smoke detector, fire extinguisher, radon test kit, first aid kit, cleaning supplies)."
For those with asthma, staff helps to educate them about potential triggers, the importance of talking to their doctor, when to take their meds, and what to take in an emergency to avoid a trip to the emergency room. Senior citizens may be referred to Office for the Aging to receive assistance for their particular needs, such as handrails or advice for family issues. Staff also can point people to food pantries, the community closet and other resources, she said.
The Batavian asked follow-up questions, and Schmidt and Public Information Officer Kaitlin Pettine gave the following responses.
Does staff give demonstrations of how to use wellness equipment?
"If possible, we want the equipment installed before we leave. We are working with the City of Batavia Fire Department to install smoke detectors going forward. We also make sure that carbon monoxide detectors are activated and discuss the proper placement. For fire extinguishers, we provide a brochure on usage and give brief instructions," they said.
Why would they want to take a few minutes to listen?
"Most people could use a quick check of hazards to look for in their homes. It is better to be aware and plan for an emergency, than to be caught off guard."
 What time period are you going out in Batavia?
"We do not have a set schedule for when we go out, and the time changes each week based on the weather, staff availability, etc. However, we try to go into the community several hours a week. We try to alternate between areas and time of day. As the weather gets better and we get into late spring and summer, we hope to spend more time going door-to-door. We also plan to attend community events to spread awareness about the program."
Will you be moving into other areas after the city? If so, where?
"This year, we are going door to door in census tracts 9507 (Ward 5) and 9508 (Ward 2) in the City of Batavia. However, any resident of the City or Town of Batavia is eligible for the program and we accept referrals at any time."  
Will you be distinguishable, so that people will know it's you and not a salesperson?
"When we go door-to-door, staff wear Genesee County Health Department badges and identify themselves as health department employees when someone opens the door," they said. "If someone is hesitant, we encourage them to go to GOHealthNY.org to get some more information. There they can fill out a referral form online if they are interested in the program. Staff will then schedule an appointment that is at a convenient time for the resident."
What's the overall message that you hope to convey to families?
"The Healthy Neighborhoods Program can make a difference by reducing housing related illness and injury through home inspections and prevention. Staff will identify problems that exist and refer residents to local agencies or programs when it is appropriate."
The Genesee County Health Department received $477,000 in funding from the New York State Department of Health (NYSDOH) to implement the Healthy Neighborhoods Program (HNP) for the years 2022 to 2027.
For more information or to make a referral to the program, call Genesee County HNP staff at 585-344-2580, Ext. 5519, or visit www.GOHealthNY.org.
Photo of free items given during home visits from GO HealthNY.