Image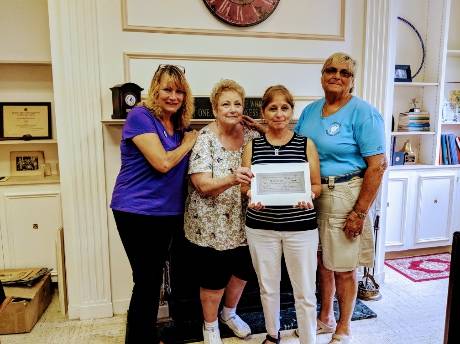 Pictured from left are: Ellen Bachorski, Carol Grosso, Millie Tomidy-Pepper, and Barb Toal.
Submitted photo and press release:
On Tuesday, July 23rd, officers of the Friends of Batavia Peace Garden presented Millie Tomidy-Pepper, director of the YWCA, with a donation in the amount of $400.
The gift came as a result of a hot dog sale fundraiser hosted by the Peace Garden committee on Saturday, July 7th.
"We are thrilled to have the opportunity to contribute to this outstanding organization that does so much for our community," said Barb Toal, co-president of the Friends of the Batavia Peace Garden. "When the going gets tough we need to stick together. Our community needs the services of the YWCA. We want to support that and do our part."
Tomidy-Pepper was delighted to receive such a generous donation and stressed that "the mission of the YWCA is to eliminate racism and empower women. We will strive to keep this mission alive and going."
The Friends of the Batavia Peace Garden gained nonprofit status in 2013. They continue to partner with other community organizations including Domestic Violence Against Children, Holland Land Office Museum, United Way and Crossroads House.
"Although the Garden is a thing of beauty it also symbolizes a sense of pride for this community and all who dwell here," Toal said. "It takes a lot of effort to maintain it. Volunteers are needed. If you enjoy gardening we have just the right spot for you. An hour or two of your time once a week can make a big difference."
Visit www.bataviapeacegarden.com or text 585-300-9252.