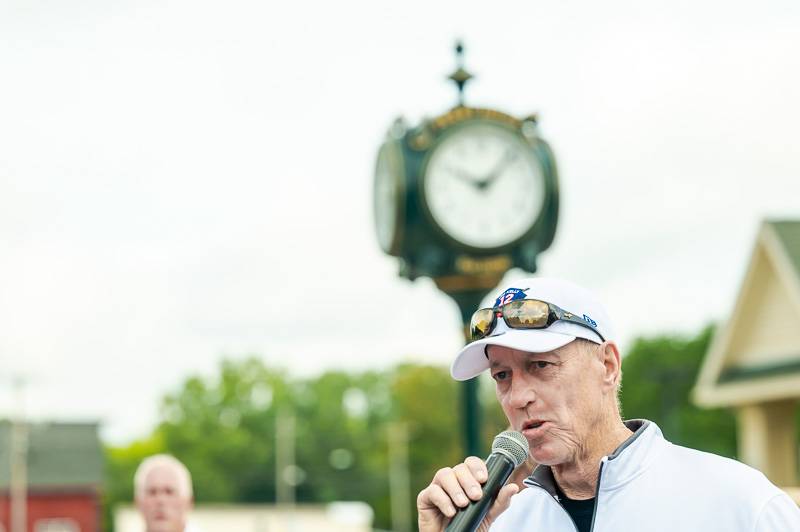 After Jim Kelly, the Buffalo Bills Hall of Famer and host of the annual tournament at Terry Hills that bears his name, the celebrity who invariably gets the most attention upon his arrival year after year is sports broadcasting legend Chris Berman. 
On Monday, after local businessman Russ Romano introduced him, Berman took extra time to talk with Griffin Della Penna, a Batavia High School graduate now working on his Master's degree in broadcasting and digital media at Syracuse University. 
Della Penna said Berman was his earliest inspiration.
"I'll never forget watching Sportscenter for the first time with my dad when I was six years old, and Chris Berman was on the screen," Della Penna told The Batavian. "I loved his passion and how you could tell that he genuinely loved his job. Since that day, I've admired him, and he ignited a dream of being in his shoes someday."
It was Della Penna's first time meeting Berman, though he had hoped to meet him last year.
"For years, I've known that he's been to the tournament and spent time in Western New York, but our paths never crossed," Della Penna said. "I worked the tournament last year and was bummed to know that he wasn't going to be in attendance. To be able to meet one of my heroes today is something that I'll never forget. While people are coming up to him telling him where to go for registration or to sign autographs, he politely told them to wait because he wanted to learn more about me and my broadcasting journey! That was the best feeling in the world when he asked me about my time at Canisius and how my program at Syracuse has been so far. He asked how much I love this profession, and he had a huge grin when I told him, 'this isn't work to me because I'm so passionate about it.' He told me how he had that same mentality with his first job at a small market in Rhode Island and carried that into his big break at ESPN. At the end of our conversation, I told him how much it meant to me to talk to me, and he said, 'I look forward to hearing you when you make it big, Griffin.'"
In addition to a stint as "The Voice of the Muckdogs," Della Penna has held down various internships and freelance sports journalism gigs while attending Canisius. He's also received a couple of awards and scholarships while in college.
Berman, along with the other sports stars and celebrities in attendance, was at Terry Hills for the annual Jim Kelly Celebrity Golf Classic, which is a fundraiser for the Kelly for Kids Foundation. The foundation provides grants to assist disadvantaged and disabled youth in Western New York.