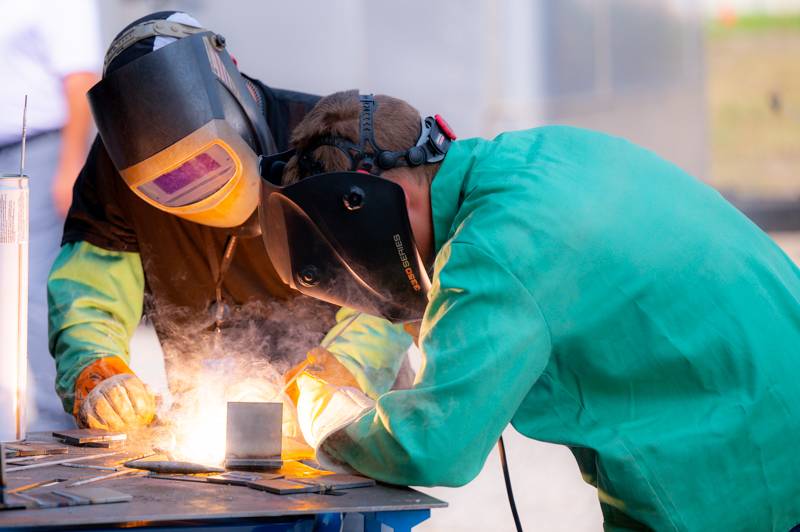 I've never been a fan of load management in basketball. I see the value in taking a breather mid-game, but taking yourself out of the competition or a great opportunity never made sense to me.
Challenging yourself in new ways is how you grow as an athlete, as a person, and as a professional. 
Did the 1,100 students who participated in GLOW With Your Hands: Manufacturing need a breather? Absolutely. There was so much for them to learn in one day – about themselves and all the skilled trades, manufacturing, food production, and agricultural careers in their backyard.
But meeting with 65 employers in the GLOW Region and testing out dozens of careers was energizing, not exhausting.
We once again saw how Genesee, Livingston, Orleans and Wyoming county kids are ready for this unique challenge.
They hammered with precision and power at Camp Hard Hat's nail-driving competition.
They jumped into the controls of construction vehicles and welding simulators.
They scaled power poles, raced wheelbarrows weighted down by cinder blocks, and grasped the lessons taught through GV BOCES' mechatronics lab equipment.
Through it all, our GLOW With Your Hands participants showed a passion that we need to continually embrace. That's a big reason I am excited to have a new placement on the workforce development calendar for our next big event. It keeps the momentum going!
Cornell in High School takes the wide-scale career exposure concept from GLOW With Your Hands and focuses it on a group of career-focused students in the Class of 2024 from Nov. 7 - 9.
Over three days of Cornell University College of Agriculture and Life Sciences-led training at SUNY Genesee Community College, students get hands-on experiences in food production, plant safety, and the financial benefits of a career in the food industry.
Employers like Nortera in Oakfield and Bergen, Upstate Niagara Cooperative in Batavia, and Yancey's Fancy in Pembroke have welcomed this opportunity. Our students are going to connect with them in the classroom and in facility tours.
Participating students will earn a Food Processing certificate from Cornell University's Department of Food Science, giving them a free head-start for careers that offer great lives with no college debt – and they do this all while they are still in high school!
Know a student who would fit this program? Registration is at tinyurl.com/CornellBootcamp and I'm a call (585-409-1301) or an email (csuo[email protected]) away when it comes to connecting kids to careers.
I worked with Cornell to launch this program in 2022 because of the potential it had in Genesee County. Our strong base of food and beverage companies is the largest employer within our region. Continued investment in this industry results in ample and rewarding job opportunities.
There are great futures ahead for our students at Nortera, Upstate Niagara Cooperative, Yancey's Fancy, and across many food and beverage employers in our region.
I'm not taking a game off, or letting an opportunity pass by for our kids to succeed.
Looking ahead, there are matching days for this year's Youth Apprenticeships in December, a Senior Job Fair, and the Youth Apprenticeship internships and co-ops early in 2024.
Chris "Coach Swazz" Suozzi is VP of Business Development for the Genesee County Economic Development Center.