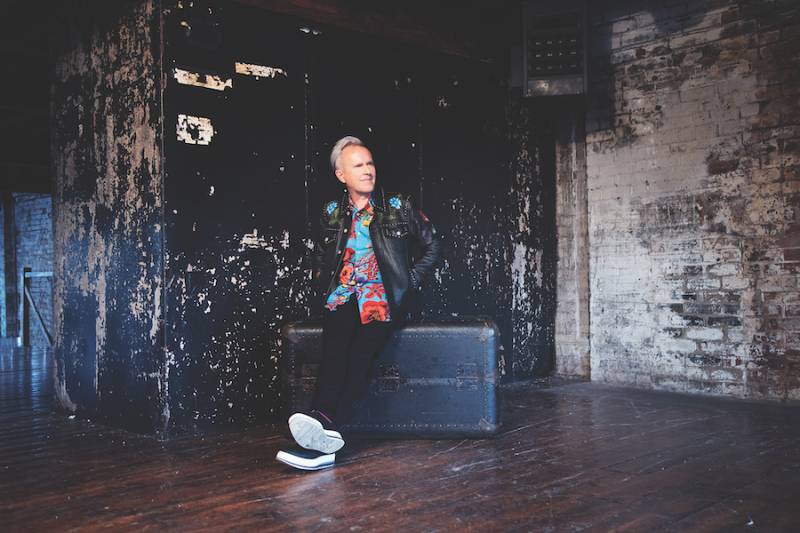 By Dave Gil de Rubio
If synthesizers are the engine for Howard Jones' creative drive, then positivity is the fuel. It's been that way since Jones broke onto the international music scene with his 1983 hit single "New Song" and has continued to be the case with the current four-album concept that started with 2015's "Engage," followed in 2019 by "Transform" and last year by "Dialogue." The fourth album, "Global Citizen," is set to wrap up this overarching concept album project, and could arrive as soon as this year.
The English musician described the story arc that has been his focus for the past seven years. "'Engage' was about not just being a bystander—be involved in what's going on around you and don't think that you don't have any effect on the world and your environment because you do," Jones explained in a recent phone interview. "'Transform'" was about if we want to change the world and change things for the better, we have to start with ourselves. We have to work on ourselves and our behavior towards other people and ourselves as well. And 'Dialogue' is what I just described—the importance of communicating towards each other. The next one...is 'Global Citizen,' and that's putting all those three concepts into action and believing that you can have an effect on the world as a global citizen."
Like the rest of the world, Jones found himself isolated by the pandemic lockdown as he embarked on recording "Dialogue." The dark mood of uncertainty that came with this global situation meant lyrics came later, but in the end, Jones was able to surmount the challenges presented with being a one-man band, particularly after contracting a post-vaccination case of COVID-19.
"I couldn't really work with other people on this, so it was me, my growing synthesizer collection, software and studio," he recalled. "In a way that makes it quite focused, I think. I had plenty of time to experiment, try some new things and get some really great sounds together. I got to spend days on just one sound to make it really special. And having that amount of time was a blessing to really experiment. I suddenly remembered that I used to do a lot of harmony vocals—layered vocals and big multi-harmonized vocals and I got back into that idea. And I wanted my voice to sound different every time I used one of those harmonized vocals and I was experimenting. 
"There was one point that I got COVID-19—I was completely vaccinated and everything but when I got it, I sort of lost my full voice," Jones said. "I thought I was going to have to try and do something different, so I sang in a different way more quietly. I got a really different sound and I was really quite excited about that. If you're doing all your own backing vocals yourself, you need to make yourself sound different to differentiate between the lead and backing vocal. It worked for me." 
And while Jones did all the creative-lifting, he got a compositional assist from BT (aka Brian Transeau), the American musician/DJ/electronic music pioneer who became a close friend of Jones after the latter came out to see him head up an ambitious orchestral project in Miami in 2015. It's a connection Jones has come to treasure.
"On the new album, we did two or three tracks and BT was great," Jones said. "For those two tracks—'Celebrated Together' and 'Be the Hero'—he'd sent me some seed ideas for tracks quite a long time ago. I used a bit of that in the writing of them and I'm really hoping that we may get a remix from him based on one of those songs. I know he was particularly excited about 'Be the Hero.' We probably will continue to work together maybe throughout the rest of my career because we get on very well. For him, it's about trying to find time because he's the busiest man in the universe."
While this string of albums is heavily electronically driven, Jones will mix things up during his live shows as he opens this summer for Culture Club. 
"It's an electronic show and we're going to be debuting a few tracks from the 'Dialogue' album along with a couple of tracks from 'Transform' and one from 'Engage' as well," he said. "The fans really follow everything I do and I really must look after that as well as playing the hits."
Looking ahead, Jones and his fan base have plenty of projects to anticipate between "Global Citizen" completing his four-album musical concept, a concert album ("Live at Union Chapel") and a collection of non-synthesizer-based material Jones has been working on for a number of years ("Piano Composed"). And while he's understandably excited about this burst of creativity that's going to take him into the next year, Jones has always clung to the philosophy of gratitude driving him forward while refusing to get caught up in the highs and lows of the music industry and life in general.
"I think it's very important to be happy with your work and one of the best ways to be happy is to really appreciate the situation you find yourself in, even if it's difficult or you're having problems or whether you're soaring because it's going well," Jones said. "Just really appreciate things because if it's not going well, then you can learn a ton of stuff from that to make it better. If things are going really well, don't get carried away, because that may stop you from doing great work in the future."
Howard Jones will be playing at Darien Lake Performing Arts Center on Saturday.