Image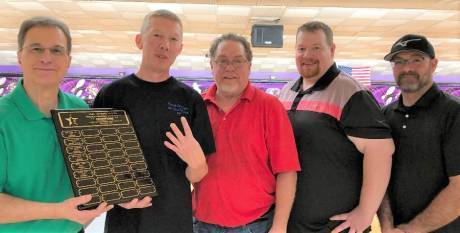 The origin of what is now called the Genesee Region USBC Scratch Memorial Tournament is part of the legacy of the former Perry Bowling Association, which provided service for many years to bowlers in Wyoming and Livingston counties.
The scratch singles event continues today as a major tournament of the GRUSBC bowling association, an organzation of around 1,800 certified league bowlers with an expanded service area that also includes Genesee and Orleans counties.  But, as recent history shows, bowlers from the founding counties have been quite reluctant to let their neighbors from the north walk away with the first-place trophy.
Such was the case this year as high-revving right-hand Scott Culp of Honeoye Falls, a regular league bowler at Livingston Lanes in Geneseo, captured his fourth Scratch Memorial title on Jan. 5 at Oak Orchard Bowl in Albion.
Culp, 41, has won three of the past four tournaments, while third-place finisher Kevin Gray Jr. of Warsaw was the champion in 2016 and 2019.
In fact, the last seven winners of the tournament have hailed from Wyoming or Livingston county. You have to go back to 2013 to find a winner from Genesee or Orleans county when the late Bob Foss Jr. (Medina) captured the crown.
This year, it was Culp posting a wire-to-wire victory as he led the qualifying round on Jan. 4 with an 888 four-game total and came back to lead the semifinal round on Jan. 5 with a 919 four-game total to earn the No. 1 seed for the five-bowler stepladder finals.
In the title match, he defeated the second-seeded John LaGeorge of Retsof, 215-174, for the $500 first prize.
LaGeorge, who won this tournament in 2001, pocketed $300 for placing second in this year's event, which was contested on the Kegel Mercury 40-foot challenge pattern (qualifying rounds) and Kegel Route 66 V2 45-foot challenge pattern (semifinals and finals).
Defending champion Kevin Gray Jr. of Warsaw placed third, defeating fourth-place Scott Allis of Medina in the second stepladder match, 204-179, before falling to LaGeorge, 227-172, in third match. Gray also won this tournament in 2016.
Allis took the fourth spot with a 197-191 win over this bowling columnist in the first stepladder match, rolling a double in the 10th frame.
Gray won $250, Allis $200 and I took home $140.
Also cashing (in the top eight who advanced to the semifinal round) were Nathan Cordes of Batavia ($100), Brian Weber of Perry ($90) and Rick Pernicone of Dansville ($85).
The tourney drew 36 entrants.
Photo: Finalists in the Genesee Region USBC scratch memorial, from left, Mike Pettinella (tournament director), Scott Culp, John LaGeorge, Kevin Gray Jr. and Scott Allis.
MOUNT MORRIS PEPSI OPEN IS THIS WEEKEND
Some of the best scratch bowlers in Western New York and beyond will converge upon Mount Morris Lanes this weekend to vie for the $1,500 first prize on the 42nd annual Mount Morris Pepsi Open.
Qualifying squad (four games) times are 7 and 9:30 p.m. Friday, 11:30 a.m. and 2:30 p.m. Saturday and 10 a.m. and 1 p.m. Sunday. A "last chance" squad for those not qualifying is set for 4 p.m. Sunday, and the eliminator-style finals will begin around 5:30 p.m.
The entry fee is $70 ($50 to re-enter). One out of every five bowlers will cash. To enter, call 585-658-2540.
Legion Lanes in Le Roy is hosting the Help-R-Heroes 4-person handicap no-tap tournament on Jan. 24-26 with squad times at 7 p.m. on Jan. 24, noon and 3 p.m. on Jan. 25 and noon and 3 p.m. on Jan. 26.
First place, based on 40 teams, is $1,000 and the entry fee is $100 per team. Call 585-409-0459 to sign up.
SPARE SHOTS: MOUNT MORRIS TEAM SETS RECORD
-- Last January (Jan. 20 to be precise), the Toyota of Batavia team set a Genesee Region USBC five-person team scratch series record by posting a score of 3,580 in the league of the same name at Mancuso Bowling Center.
Well, almost a year later, the Medical Services team from Mount Morris went 30 pins better than that during competition in the Wednesday Night Classic League at Mount Morris Lanes.
Led by Dave DiSalvo's 802 series, the team recorded 3,610 on scratch games of 1,200, 1,229 and 1,181 on lanes 5-6 on Jan. 8.
Fellow lefties Chad LaPiana and Bob Santini added 748 and 706, respectively, while righties Dan Shull and Steve Paddock posted 710 and 644, respectively. The 710 was Shull's first 700 series at Mount Morris Lanes.
-- Word that Batavia High School has started an intramural bowling program at Mancuso Bowling Center has fueled (once again) talk that maybe BHS eventually would be able to field a team in the Monroe County League.
About a dozen students are participating in the bowling club, which will meet after school on Mondays and Wednesdays in January and February. Physical education teachers Teresa Morrill and Paul Pedersen are running the program.
The instructors said that the purpose of the program is to see if it can develop into a team that could compete against Rochester-area schools (hopefully starting next winter). It is a student-driven effort, with much of the impetus coming from BHS Co-Mayor Macayla Burke's petition drive during her campaign.
-- Kevin Sass, owner of Letchworth Pines, completed his fourth year as proprietor of the Portageville facility and continues to promote his literacy program at area libraries.
Sass reported that he has reached out to public libraries in Castile, Warsaw, Nunda, Fillmore and Gainesville with the goal of inspiring students to read more. The incentive? Free game of bowling coupons to kids for every book they read, and a pizza party for classes that reach their reading goals.
He also is trying to get local schools on board, but so far as had mixed results.
Sass should be commended for his efforts in linking bowling – a family-oriented and lifetime sport – with higher education.
-- Finals of the PBA Hall of Fame Classic, the first event on the 2020 Go Bowling PBA Tour season, will air live on FS1 at 1 p.m. Sunday.
The tournament is taking place at bowling's International Training and Research Center in Arlington, Texas, and coincides with PBA Hall of Fame ceremonies on Saturday night. Tommy Jones, a 19-time PBA Tour winner, and former PBA owners Mike Slade and Rob Glaser are this year's inductees.
All qualifying and match play rounds will be covered live by PBA's online livestreaming partner, FloBowling. For subscription and schedule information visit www.flobowling.com. Results also will be posted as they happen on pba.com's Live Scoring feature.